Empowering Young
Adults to Develop their
Potential
Empowering Young Adults to Develop their Potential
Impact is created where the worlds blend
Blend Amsterdam organizes meetings for companies and organizations, as it funds new training and opportunities for the young adults within Blend Academy.
At a historic, green A-location in Amsterdam, business meetings are organized to perfection by young adults who want to reintegrate.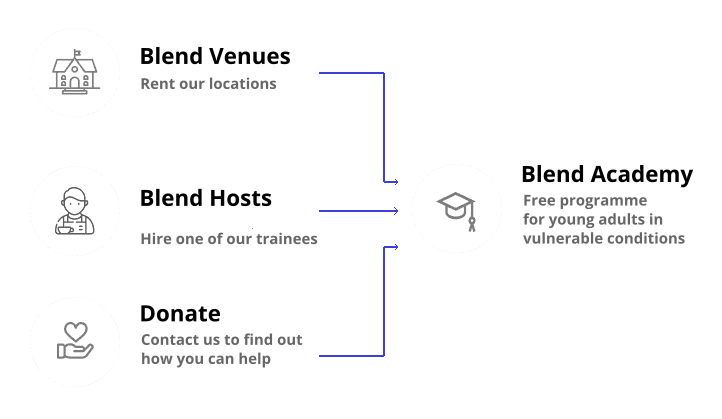 Rent one of our A list venues in the heart of Amsterdam.
Either a small boardroom meeting, an offsite team building day or a full on conference, we have space options for all needs. Check out our rooms and location.
Employ or Hire one of our trainees to your event or venue!
The Blend Hosts are our trainees graduating out of Blend Academy, ready to be become the next barista, waiter, cook or hospitality member.
If you are short on staff and would like to make a hire in hospitality, let us know!
Training program for young adults who want to reintegrate.
Blend Academy is for young adults (18 - 36 years old) who want to reintegrate, learn and gain work experience in a fun way. The learning work program focuses on professional hospitality and personal leadership, and provides a broad base of life skills and practical skills for all types of work.

Be part of our Blend Community
Rent our venues
Rent one one of our A-list venues and not only you provide funds to our academy, but also offer experience to our trainees who will host you.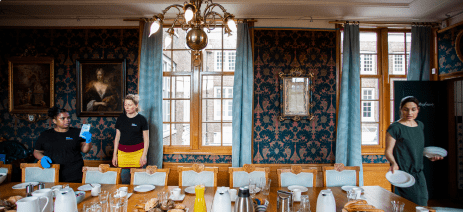 Hire our trainees
Do you need help with your event location or have an event? Short on staff? Our trainees are ready to support and be hired. These funds will serve as their salary.

Donate or Volunteer
Donate or volunteer. Every little bit helps so we can help more youngsdters out of the streets, provide more training and find even new and better ways to help our clients find work.